House System
Our Vision

"The House system is about unlocking student potential. We will achieve this by working together to support students and help remove barriers to learning, thus creating a sense of belonging, identity and pride."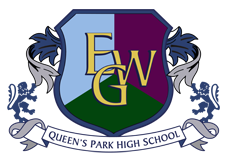 Queen's Park High School is committed to ensuring that every student matters and that every student is safe, happy and is making progress. A sense of belonging, identity and pride is key to this and at Queen's Park High School this is developed and supported by our House System.
Students from Years 7 to 13, are split into three Houses:
Eaton
Grosvenor
Westminster
Good pastoral care is important to developing students who demonstrate initiative and leadership, who are able to make good decisions and take responsibility for their choices and actions. The pastoral team provides day to day and longer term support for any student who is experiencing any kind of difficulty in and beyond school, and can access additional support and help from other services. Our pastoral support system is designed to ensure that all barriers to a student's continued well-being and progress are removed.
Form Tutors
Our House system begins with the Form Tutor, who is a student's first point of contact and support in school. Form tutors see the students in their care every day, and stay with their group throughout years 7 to 11, and develop a strong and supportive relationship with them.
Heads of House
Tutors are led by Heads of House, who are responsible for overseeing the well-being and progress of their students as they move through the school, getting to know the students well and building good relationships with families.
Assistant Heads of House
Heads of House are supported by non-teaching Assistant Heads of House, who are available throughout the day to provide support and intervention, and liaise with families. They also work closely with a number of outside agencies to support students in overcoming barriers to learning.
Mr D Halstead, Deputy Headteacher has overall oversight of all pastoral care.