Art
| | |
| --- | --- |
| Subject: | Art and Design |
| Contact: | Mr S Parker |
Overview
All students study Art & Design at Key Stage 3 and they have the choice for further study at KS4. Throughout each Key Stage we aim to promote a broad understanding and appreciation of the visual world through making art, engaging with, analysing and reflecting upon the art work of contemporary artists, photographers, craftspeople, designers. At KS3, KS4 and KS5 students are given a broad approach into exploring images and artefacts that balance with the making of art that are relevant to today's world. The very nature of our subject allows the teacher to contribute to the intellectual, emotional, social, physical and spiritual development of students.
KS3
Overview
Students are taught in ability classes in years seven, eight and nine. Students are offered a broad and balanced curriculum within a range of specialisms – painting, drawing, 3-D, ceramics and photography. Independent learning tasks through the use of takeaway homework's allow students to develop their ability in managing their own interests through learning.
Throughout Key Stage 3 students are given opportunities to improve their skills in generating ideas through artist research, planning visual ideas through experimentation and evaluating their own and others work in preparation for GCSE.
Curriculum Overview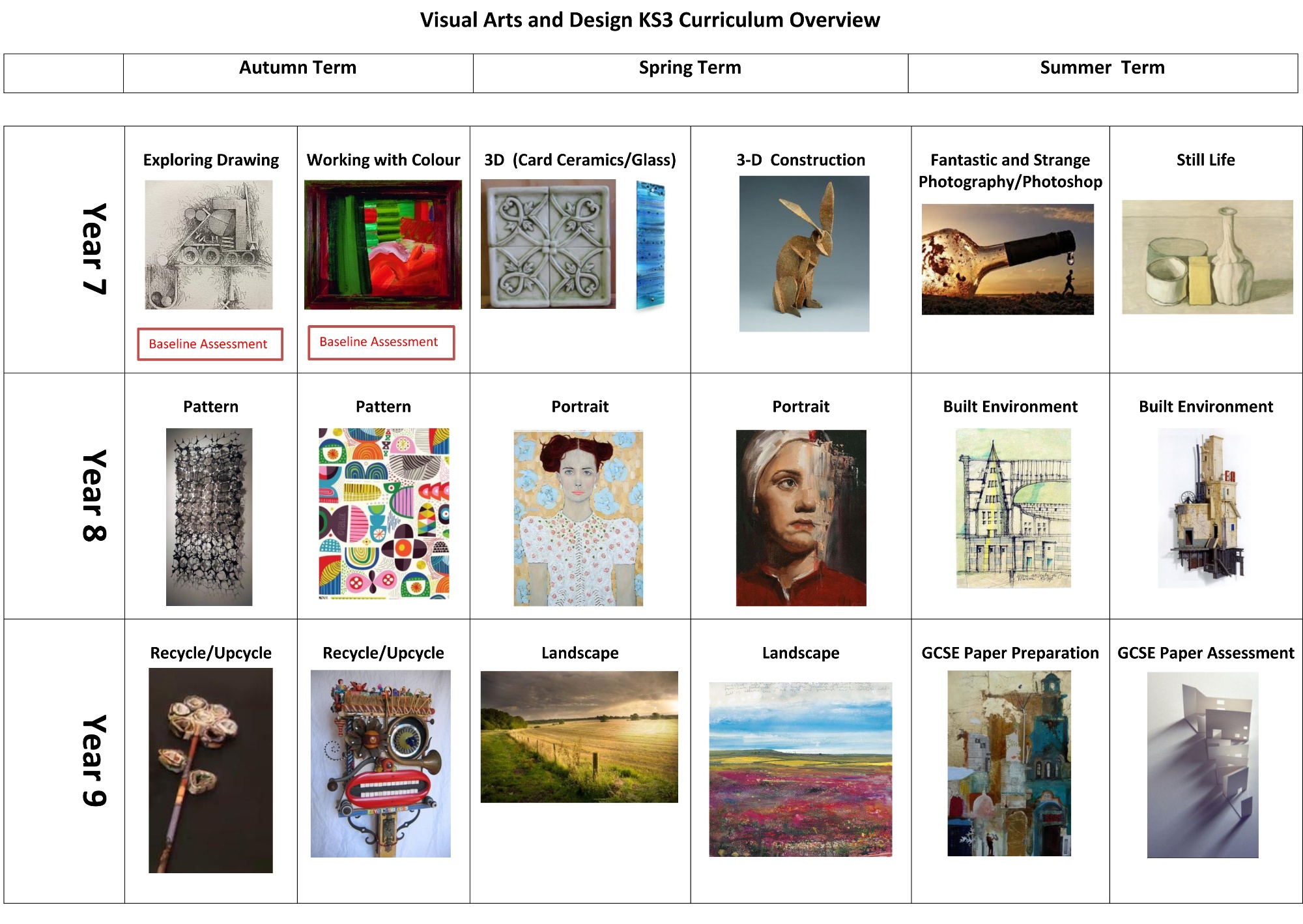 Curriculum content
Term 1

Term 2

Term 3

Year 7

Exploring Drawing &

Working with Colour

Baseline Assessments

3D (Card Ceramics, Glass)

3D Construction

Fantastic & Strange
Photography/Photoshop
Still Life

Year 8

Pattern

Portrait

Built Environment

Year 9

Recycle/Upcycle

Landscape

GCSE Paper Preparation & Assessment
Age related milestones
KS4
Overview
We follow the AQA GCSE syllabus for both Art, Craft and Design (8201). Students are taught in mixed ability groups. This gives us the freedom to teach GCSE Art & Design in ways that inspire and bring out the best in all students, whilst equipping them with the skills to continue the subject with confidence at A-level and beyond. The flexibility of its design means we can tailor our course to your students' interests and our department's strengths. Teachers teach to inspire, challenge and motivate every student, no matter what their level of ability, while supporting you in developing creative and engaging lessons.
Students are taught in 5 hours a fortnight.
Exam board and course
AQA Art, Craft and Design (8201)
Curriculum Content
Term 1

Term 2

Term 3

Year 10

Identity

Environment

Student choice of projects

Year 11

Mock Exam Preparation

5 hour Mock Exam

Externally Set Assignment

10 hour exam
Assessment components
Art, Craft & Design and Photography
Unit 1: Portfolio Unit

Unit 2: Externally Set Assignment

What's assessed

A portfolio that in total shows explicit coverage of the four assessment objectives. It must include a sustained project evidencing

the journey from initial engagement to the

realisation of intentions and a selection of

further work undertaken during the student's

course of study

What's assessed

Students respond to their chosen starting

point from an externally set assignment

paper relating to their subject title, evidencing

coverage of all four assessment objectives

Assessed

• No time limit

• 96 marks

• 60% of GCSE

Assessed

• Preparatory period followed by 10 hours of

supervised time

• 96 marks

• 40% of GCSE
Enrichment opportunities
Art Clubs:
Tuesday 12.20pm – 1pm KS3 and KS4
Wednesday 3.00pm – 4.00pm KS4 and KS5
Thursday 12.20pm – 1pm KS4
Useful websites to support learning